SkinEasi® activ Silicone Anti-Chafing Gel (20g) (Pack of 4)
Regular price

Rs. 1,404.00

Regular price

Rs. 1,560.00

Sale price

Rs. 1,404.00
Baseprice: Rs. 1190
Tax: Rs. 214
Description
SkinEasi activ prevents and relieves pain and discomfort from Thigh burn, Blisters, Nipple bleeds, Groin rash, Underarm, Jock Itch and Under Bra rash.
SkinEasi activ is an everyday use silicone-based anti-chafing or anti-rash gel for an active lifestyle.
What is chafing?

Chafing is a common skin problem often caused due to frequent friction between the skin or skin & clothes, sweat, and humidity.
If ignored or left unattended, prolonged and repeated rubbing on the same spot not only makes your skin red & sore but also leads to sting, burn, rashes, swelling and bleeding (in severe conditions).

Who should use SkinEasi Activ?

Everyone who suffers from pain & burning sensation due to chafing while doing intense sporting activities such as:

Marathoners / Runners
Swimmers
Cyclists
Sportsperson
Fitness Enthusiasts
What does SkinEasi Activ do to me?

Protects skin from rashes & burning sensation in severe heat, humidity & rains.
Prevents chafing in Inner thighs, Groin, Under arm, Under bra, Nipples.
Relieves pain & discomfort and allows you to focus on your performance.
Prevents skin irritation & rashes.
Prevents painful stings caused during post-run / post-ride showers

Why SkinEasi Activ?

Most effective anti-chafing product in India.
Used, Preferred, & Trusted by athletes – ultra marathoners, cyclists, triathletes and endurance sports enthusiasts
100% Safe for everyday use
Non-medicated and Free from harmful chemicals, preservatives & color
Water & Sweat repellent

How to use SkinEasi Activ?

Clean & dry rash prone area
Take a small amount of gel (Refer 'How much to Use')
Spread evenly on the chafe prone areas
Get Activ. Go Easi.
Apply before starting activity for best results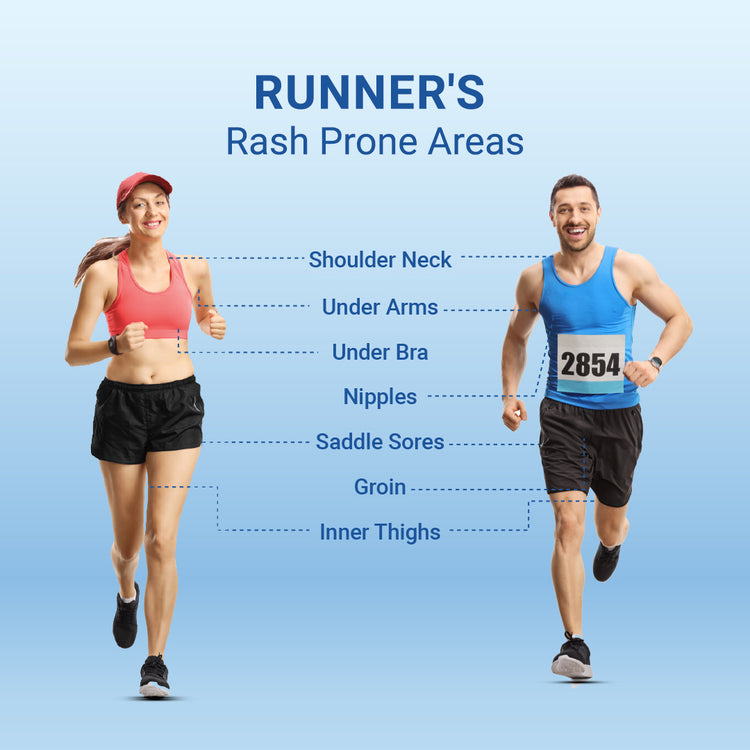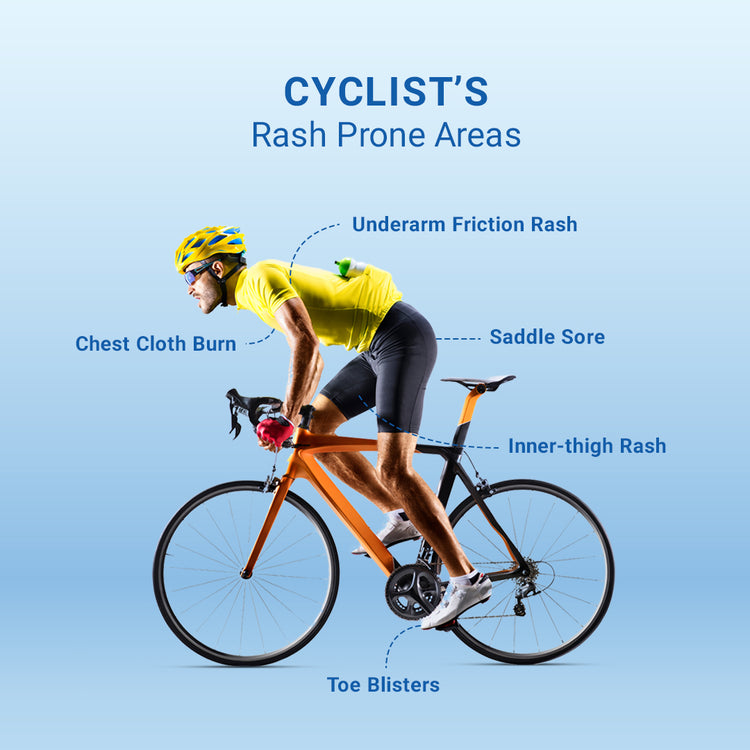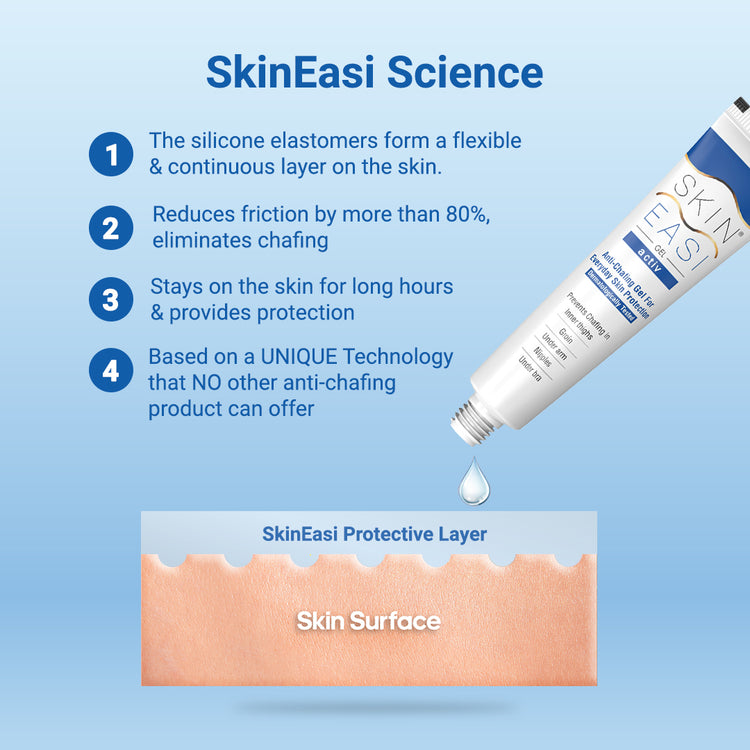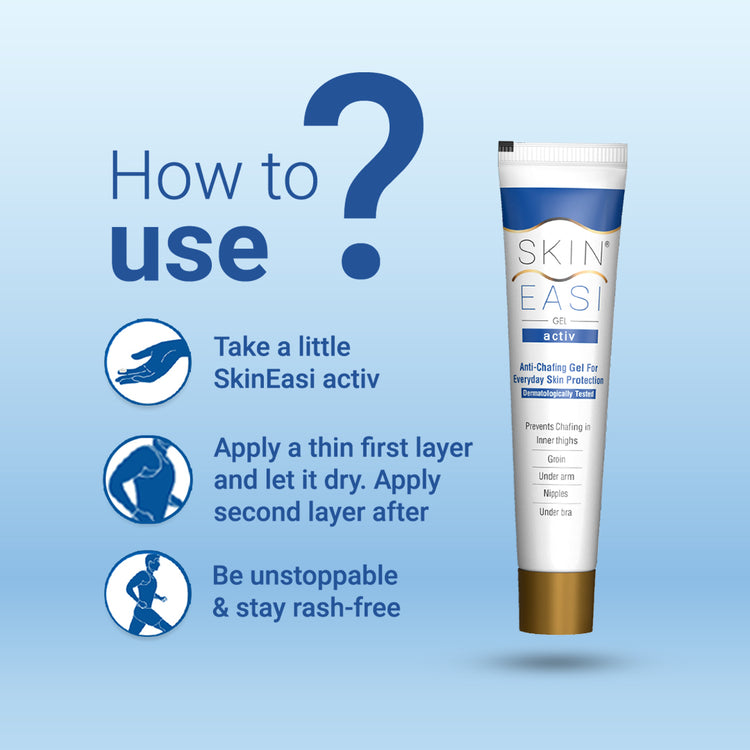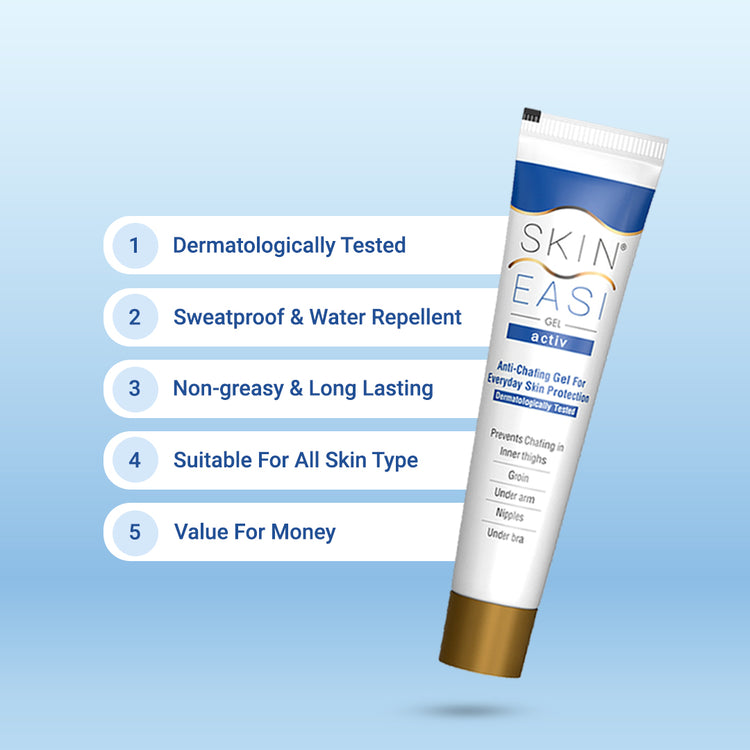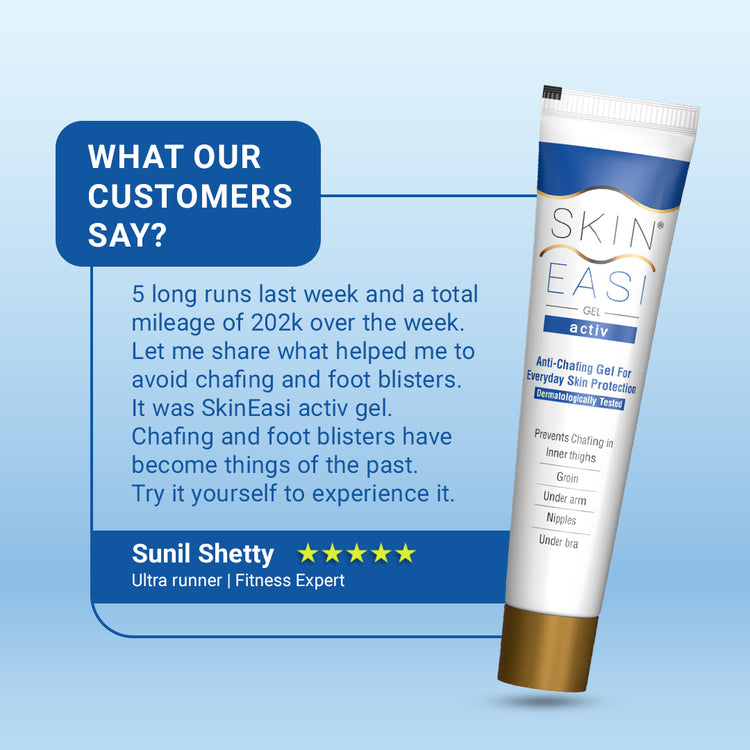 "Protect Your Skin And It Will Protect You Back"
Frequently Asked Questions
How does it work?

Skineasi activ forms a thin film of silicone within 30 seconds of its application on chafe prone areas. This film, like second skin, acts as a barrier between skin or skin folds or between skin and clothing thus preventing chafing. The thin film formed by Skineasi activ is invisible, long-lasting, non-allergenic, water-repellent and most importantly breathable unlike other make shift solutions. The thin film formed by Skineasi activ not only gives silky feel to skin but also works well in presence of water, sweat or moisture.
What does it contain?

Skineasi activ is a skin protectant, soothing silicone gel made of silicone elastomers, polysiloxanes, starch and silicates made using patented 'second skin' technology
How is it different from petroleum jelly or any petrolatum-based products?

a. It is not oily, hence does not give a sticky feeling. It gives a silky matte-finish feel, it feels like it's almost not there.
b. Since it is not oily, it does not stain your clothes. No more awkward swabs or patches on your favorite outfits.
c. It is non-comedogenic i.e. It does not block/clog your sweat pores and allows your sweat to pass through forming a breathable layer on your skin. It allows your skin to breathe.
d. It lasts long on skin thus providing long lasting protection to the skin.
Will it come off if I sweat?

No, it is water repellent and works well in presence of water. In fact, it will not come off even in the rain, or even better, you can go for a swim with it.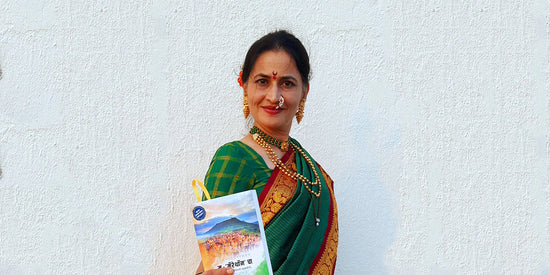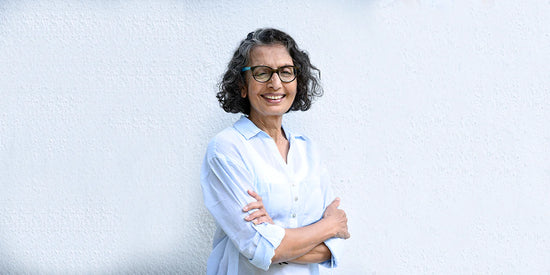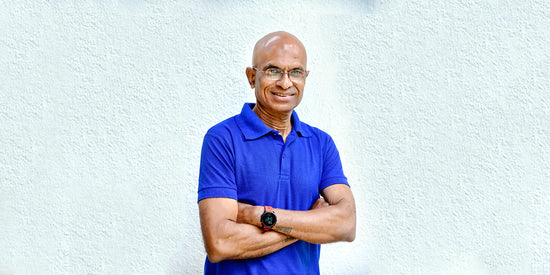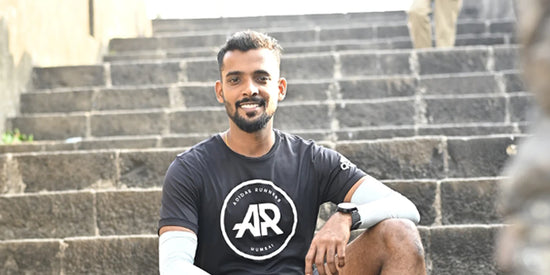 Ace marathon and ultra runner
Pushpa Bhatt
I have run more than 10 full marathons and 3 ultras and faced chafing problems under the bra line, on my back and in my armpits. A friend gave me SkinEasi to try.I have been using it since 2018 & never faced any chafing problems after that. I like SkinEasi as it's very easy to use, silicone-based and safe. I have used it for 14 hours with no chafing during my Khardungla 72km challenge at Ladakh. This product is the best thing that had happened to us runners!
Ultra runner | Fitness Expert
Sunil Shetty
5 long runs last week and a total mileage of 202k over the week. Let me share what helped me to avoid chafing and foot blisters. It was SkinEasi activ gel. Chafing and foot blisters have become things of the past. Try it yourself to experience it.

ACSM-certified Marathon trainer
Tamilarasan
I have been using SkinEasi activ since 2021. It has truly helped me in my races and prevented any type of chafing. Very convent to carry and one application stays for the whole marathon.
ACE Marathoner & Guinness World Record Holder
Kranti Salvi
I used to fear long runs because they would result in chafing, which I hated.
Up until I came across SkinEasi activ. Now I can run in any attire and my long runs are joyful and exciting with no chafing whatsoever!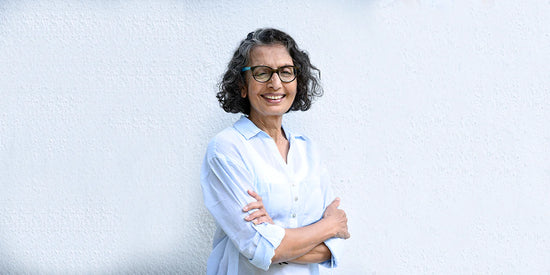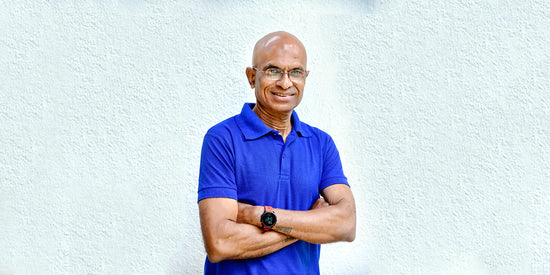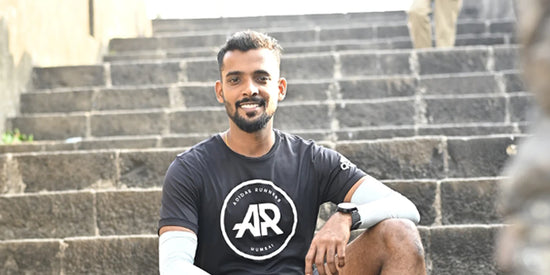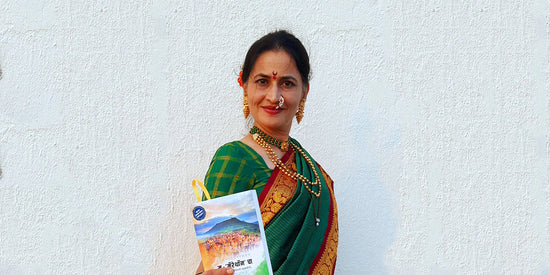 Testimonials






Ambassador for Pinkathon | Indian Marathon Ultra Runner

As a runner I use to suffer from inner thigh chaffing. Applying Anti-Chafing Gel, made my thighs feel smooth. It's not greasy or too creamy. You only need the tiniest amount. Highly recommended if you have any irritated skin or want to prevent chafing of any kind.

Prajna Pujary
What Pro Cyclists say about SkinEasi® activ

I apply SkinEasi activ before my rides and also carry it incase I need to apply again but the effect of 1st application itself lasted for 10+ hrs with absolutely no chafing, no pains and no saddle soreness. Wonderful product

Paritosh Mohite Ironman, Ultra Runner, Ultra Cyclist, Fitness Coach
I always faced rashes under my innerwear, at under arms, on my thighs, & the gel which I was using was not lasting for my long runs so I had a tough time to continue running with that burning feeling.

Thanks to SkinEasi activ now, I have started enjoying my long runs.

Bindu Panchal
During my first Iron Man 70.3 race, I was worried about chafing, even after using multiple solutions, all were useless after a few hrs. One of my close friends suggested using SkinEasi for the Triathlon... which helped me a lot... even after 8 hrs my skin is as fresh as at the race beginning. No chafing marks. Helped like anything.

Thanks, SkinEasi for solving this issue and giving an effective solution without any adverse effect.

Randhir Padhwa
My major worry was underarm rubbing during long distance runs and strength training. With SkinEasi I now easily prevent it from happening.

Jesudas Joseph ACSM Certified Marathon Trainer
Chafing is no stranger to me. Major victims being nipples and inner thighs.

In mid 2021, I came across Mr. Sunil Shetty talking about Skin Easi on Instagram and he told me it really works. I was looking for an effective alternative to Vaseline.

I ordered one instantly and have been a regular user since then. It's by far the best product to prevent chaffing and blisters that I have come across

Anup Mohanta