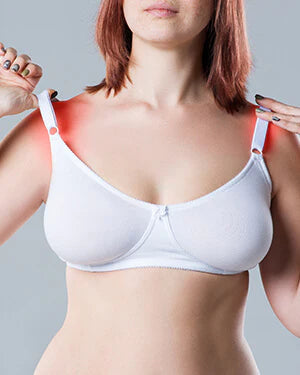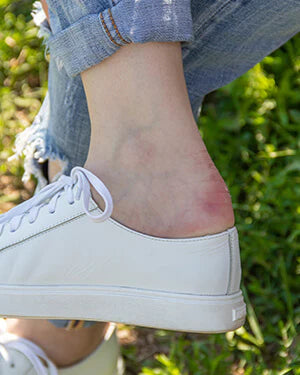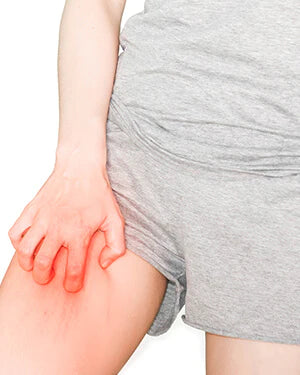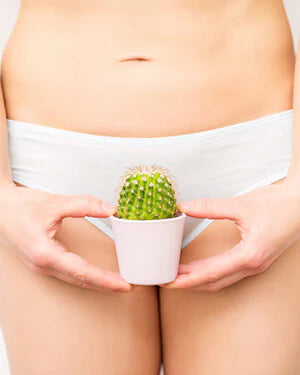 Chafing is a phenomenon that happens on the skin when it experiences increased friction due to continuous movement or exercise. This skin-on-skin or fabric-on-skin contact leads to irritation, blistering, redness or breakdown of the skin, followed by a burning sensation. Body areas like your breasts & bra line, underarms, thighs, buttocks, and feet are more prone to friction. 
Contrary to what people think, chafing is not an issue common only to athletes or women who exercise or run.  Chafing or a rub rash can occur from normal day-to-day activities as well – a watch strap, costume jewelry, an ill-fitting bra, or your favorite pair of stilettos.
Here's a complete guide to learning more about chafing in women and its problem areas, and how SkinEasi helps in preventing this issue before it goes out of hand!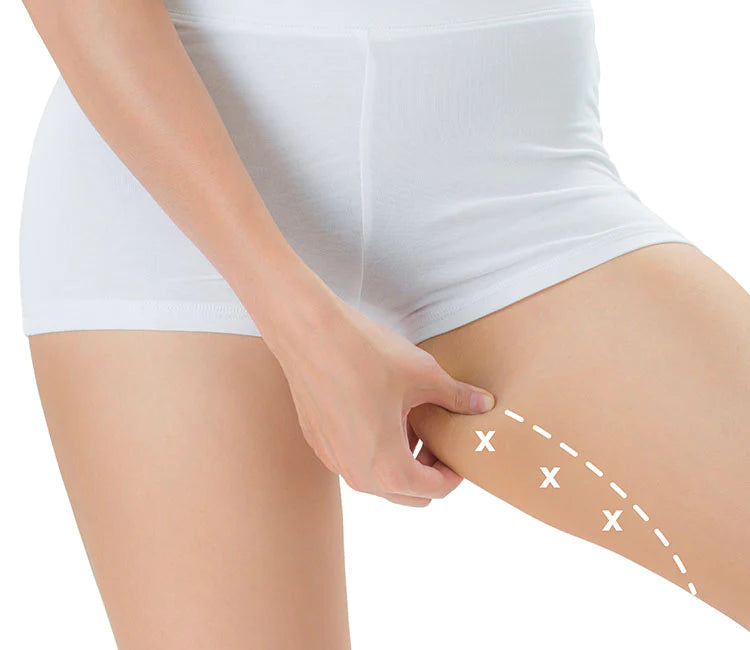 Inner Thigh Rashes | Chub Rub
Inner Thigh Rashes or chub rub happens when your thighs rub together either skin on skin or through your clothing. Most inner thigh rashes are caused by a combination of hot and humid weather. When airflow is blocked, the sweat glands become blocked causing the inner thighs to get irritated and the condition aggravates if the skin rubs against the skin
How To Prevent Inner Thigh Rashes
Protection
Skineasi regina gel, is undeniably your best bet to handle an annoying inner thigh rash. Just a pea-sized amount spread as a thin film on the skin offers hours of protection, acting as a barrier. The gel is non-sticky, and invisible, forms a breathable film that prevents chafing, is free of preservatives, perfumes, and other harmful chemicals, and is the best protection your skin can ask for. It is dermatologically tested and perfectly SAFE for intimate areas too.
Choose The Right Gear
Choose the right gear. Wearing clothes that don't breathe well or absorb sweat or wearing tight clothing also causes inner thigh rashes.
Posture Matters
Posture Matters! Sitting cross legged for long hours can trap heat and sweat inside leading to irritation of the sensitive thigh skin and chafing. Making sure to change posture in order to allow air flow is important to avoid this.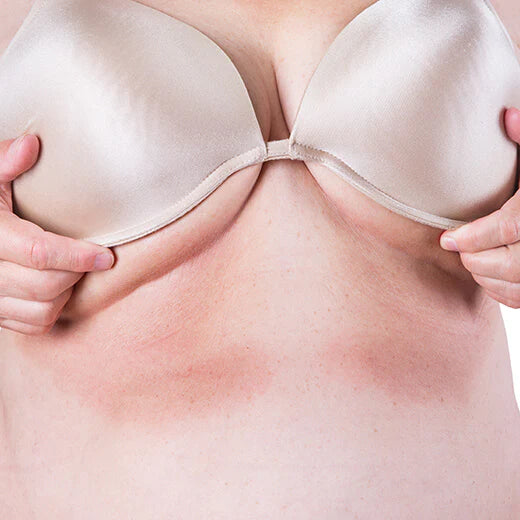 Under Breast Rashes | Bra Strap Chafing
Rashes or chafing under the breast and between the breasts are quite common and often inescapable in women who are larger-breasted or very active physically or those who run and exercise regularly.  It can also occur from wearing an ill-fitting bra or a bra that is either too small or too big. 
 The constant rubbing of skin on skin, or on the bra leaves your skin sore making it uncomfortable to wear a bra or continue the exercise. This is aggravated in the presence of heat, sweat, moisture and humidity.
How To Prevent Under Breast Rashes
Perfect Barrier
A quick application of SkinEasi regina every day on the chafe-prone areas( Under the breast, bra line, strap line) will keep the friction at bay. It forms a breathable, non-greasy, long-lasting (even in water) barrier on your skin, so much like a 'second skin' that you won't even notice after application. It is dermatologically tested and perfectly SAFE for intimate areas too.
Choose The Right Bra
The first step to prevent bra chafing is to choose a well-fitted bra that prevents your skin from chafing. Opt for breathable material to curtail the amount of moisture in that area. Invest in well-fitting, good-quality sports bras made with moisture-wicking material. .Make sure you use SkinEasi regina anti-chafing gel under the bottom band of a sports bra to prevent breast chafing/rashes.
Hygiene is the Key
To prevent under-breast chafing it's important to keep the area dry, clean and fresh every day. Shower regularly with lukewarm water and exfoliate the area at least once a week to get rid of any dead skin cells. Dry thoroughly with a clean towel post the shower.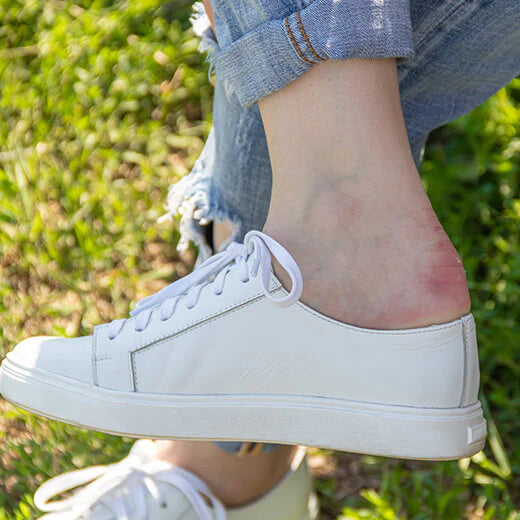 Shoe Bites | Foot Blisters
A shoe-bite or blister is a painful skin condition that happens as a result of friction between the delicate skin on your feet and an ill-fitting pair of shoes. It may also occur due to tight shoes that allow no space for the feet to breathe. This causes the feet to sweat and when they rub against the shoe, causing redness, shoe bite or a blister. The area of your feet that receives maximum pressure or irritation - back of your heel, or the big toe - is known as a hotspot.
How To Prevent Shoe Bites
Protection
Use SkinEasi comfoot, anti-shoebite gel for round-the-clock against shoebites, foot blisters, redness or raw skin. It gives a protection by forming a thin layer on the feet almost acting like an invisible pair of socks. The fast-drying silicone film protects your feet from shoe-bites that happen due to constant friction and rubbing with the shoes. Comfoot is dermatologically tested and is safe for daily use and also for sensitive skin.
Proper Shoe Size
Shoe size matters! Well fitted shoes will make your life easier. Improper and ill-fitted shoes are the main reason behind foot blisters and chafing.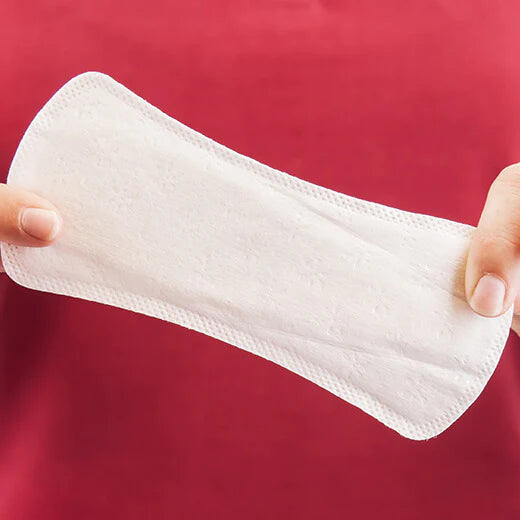 Sanitary Pad Rashes | Period Rashes
Sanitary Pad Rash  is a common problem faced by many women after the use of sanitary napkins or commercial pads during and after the menstrual cycle
In most cases, a pad rash is the outcome of contact dermatitis, which means your skin down there has come in contact with something irritating in the sanitary pad that triggered a bad reaction. Another cause can be the amalgamation of moisture and heat that contributes to bacterial buildup.
How To Prevent Sanitary Pad Rashes
Protection
Use SkinEasi® regina anti-rash gel before wearing the sanitary pads. When applied to rash-prone intimate areas, it forms a soft, flexible protective layer that cuts down friction between your skin and the material of the sanitary pad to prevent rashes for long hours. It is dermatologically tested and perfectly SAFE for intimate areas too.
Good Menstrual Hygiene
Maintaining a good Menstrual Hygiene plays a vital role. Keep the area clean, wash with mild soap and water, change the pads frequently and use well fitted underwears, to avoid frictional rashes and bacterial infections.
How are we making life easi for everyone?
From diapers to bed sores we've got you covered at every step of life with our range of products to suit every skin. So bid adieu to all those rashes and blisters because we like it only when your cheeks turn red & rosy with joy, not anything else.
Amaterasu Lifesciences
SkinEasi is the perfect outcome of -