SkinEasi® Regina Anti Rash Gel for Women (20g) (Pack of 2).
Regular price

Rs. 780.00

Sale price

Rs. 739.00
Baseprice: Rs. 626
Tax: Rs. 113
Description
Prevents and soothes inner thigh rash, sanitary napkin rash, pad rash, bra underwire and strap soreness.
SkinEasi Regina is a silicone-based anti-friction gel for everyday use to protect your skin from all types of frictional skin rashes.
Who should use SkinEasi Regina?

Women of all shapes & sizes who commonly face rub rash problems such as:

Chub-rubs, inner thigh rashes, butt rashes, groin rashes  
Rashes due to rubbing of tight fittings like intimate wear / clothes around under arms, under bra or waistline
Rashes due to rubbing of sanitary pads during periods
Rashes due to sweat & humidity 

*Highly recommended for curvy bodies  
What does SkinEasi Regina do to me?

Protects skin from rub rashes in tropical Indian climate
Prevents rub rashes in Inner thighs, Groin, Under arm, Under bra, Waistline 
Prevents discomfort & skin irritation caused due to sanitary pads
Protects skin against any friction related rashes from clothes, inner wear and skin
Relieves pain & burning sensation, and reduces redness
What are the Features of SkinEasi Regina?

Only patented silicone gel technology for friction based rash 
Most effective remedy to protect skin against friction related rashes
Forms ultra-thin, smooth silicone layer that reduces more than 80% friction 
Single application gives relief and protection all day long
Non-allergic, No harmful chemicals, Dermatologically tested
100% safe for daily use on intimate areas 
Non-greasy & Non-staining with soft and smooth feel 
Sweat proof and best suited for hot & humid climate
Water Repellent and can withstand multiple non-soap washes
Why SkinEasi Regina is the Need of the Hour for every woman?

90% women suffer from Inner Thigh Rashes while 63% ignore them
93% women said Period Rashes are painful & annoying while 85% ignore them
94% women feel Intimate Care & Hygiene is important 

Thought, Understood, Created by a Woman 
Why SkinEasi Regina?

Most effective and only patented anti-friction gel in India created by women, for women like you
100% Safe for everyday use on intimate areas
Non-medicated and Free from harmful chemicals, preservatives & color
Most used, trusted & preferred choice of 40,000+ women
Small amount of gel keeps you rash-free all day long
Complete value for money
Is SkinEasi regina safe for my intimate skin areas?

Yes. SkinEasi regina is 100% safe for intimate and sensitive skin area. 
How to use SkinEasi Regina?

Clean & dry rash prone area.
Take a small amount of gel (Refer 'How much to Use')
Spread evenly on the rash/ friction prone areas.
Leave for 30-seconds to dry out before wearing clothes.
Go Easi. Be Comfortable.

*Pro-tip: For bra strap rashes, apply on the shoulders as well as the inner side of straps for smooth movement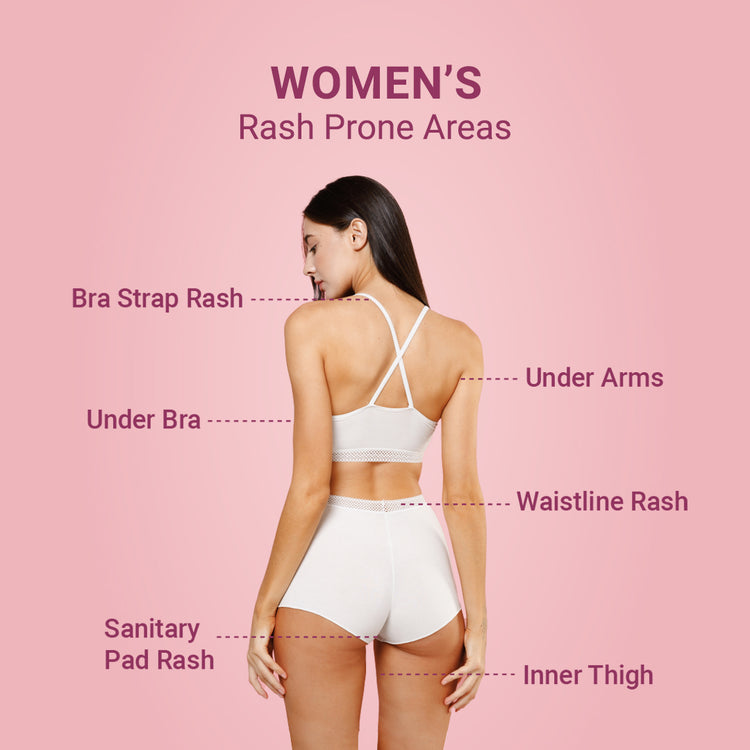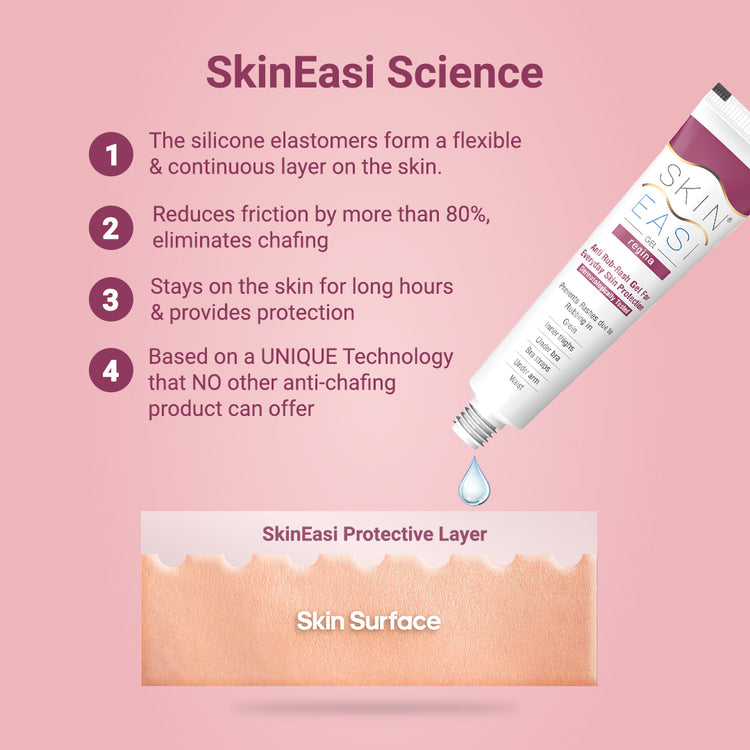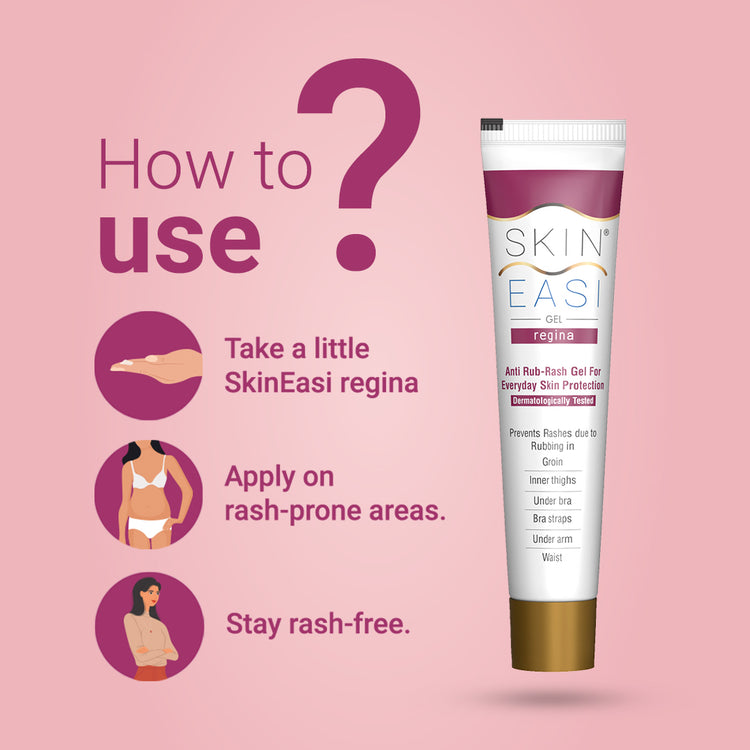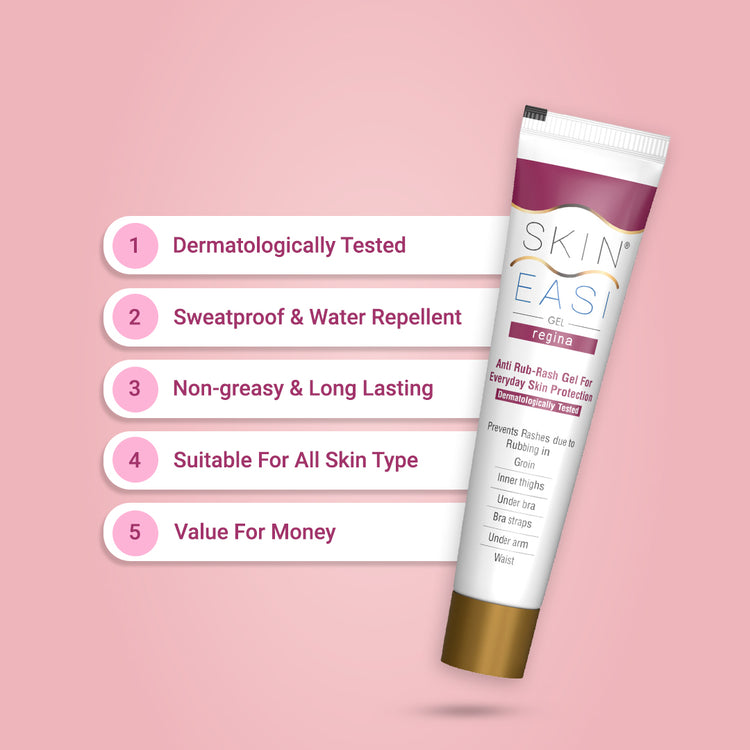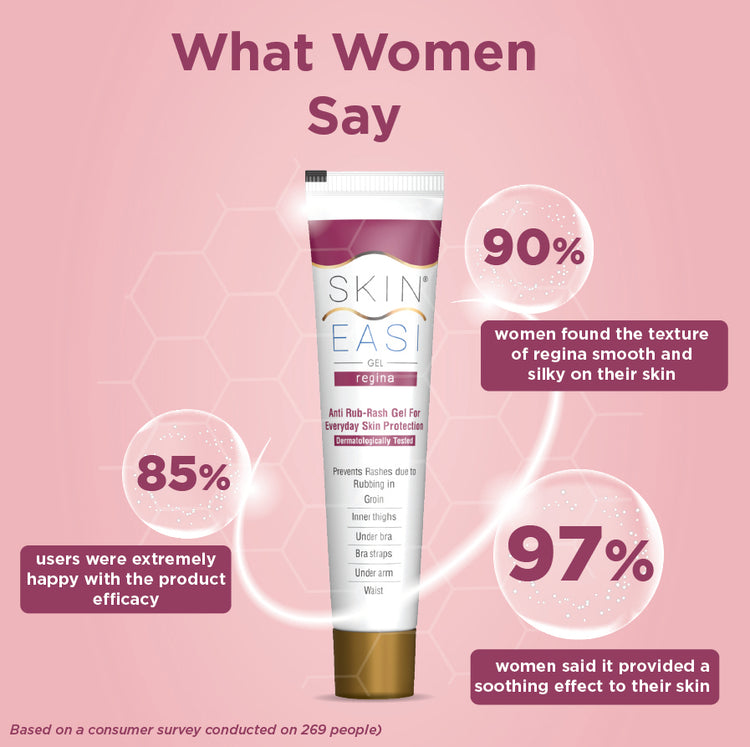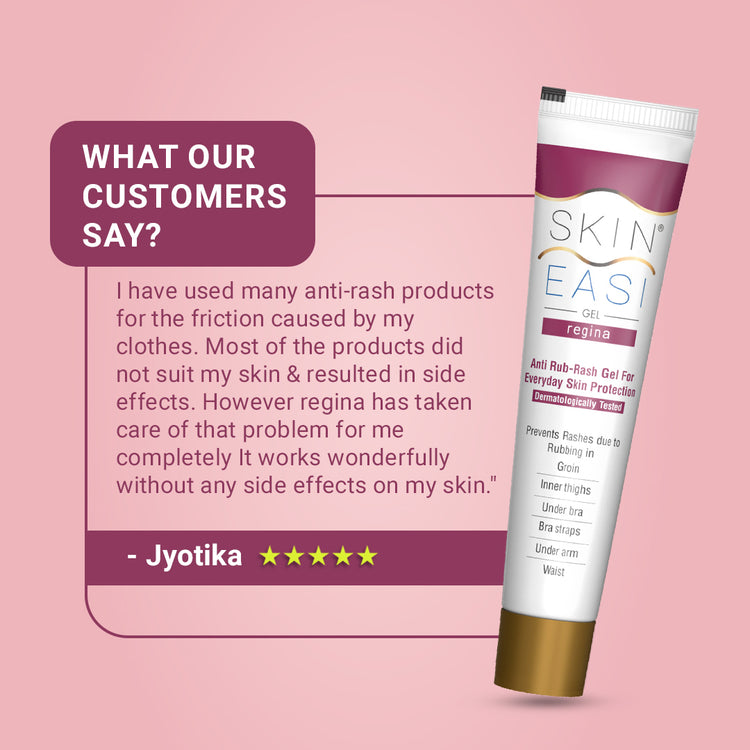 "Protect Your Skin And It Will Protect You Back"
HOW DOES IT WORK?

Skineasi regina forms a thin film of silicone within 30 seconds of its application on rash prone areas. This film, like second skin, acts as a barrier between skin or skin folds or between skin and clothing thus preventing rashes due to rubbing of skin on skin and skin on clothing. The thin film formed by Skineasi regina is invisible, long-lasting, non-allergenic, water-repellent and most importantly breathable unlike other make shift solutions. The thin film formed by Skineasi regina not only gives silky feel to skin but also works well in presence of water, sweat or moisture.


What does it contain?

Skineasi regina is a skin protectant, soothing silicone gel made of silicone elastomers, polysiloxanes, starch and silicates made using patented 'second skin' technology.
How is it different from petroleum jelly or any petrolatum-based products?

It is not oily, hence does not give a sticky feeling. It gives a silky matte-finish feel, it feels like it's almost not there. b. Since it is not oily, it does not stain your clothes. No more awkward swabs or patches on your favorite outfits. c. It is non-comedogenic i.e. It does not block/clog your sweat pores and allows your sweat to pass through forming a breathable layer on your skin. It allows your skin to breathe. d. It lasts long on skin thus providing long lasting protection to the skin.
Will it come off if I sweat?

No, it is water repellent and works well in presence of water. In fact, it will not come off even in the rain, or even better, you can go for a swim with it.
Testimonials



Excellent Product!

Go for it if you suffer rashes during periods! My life has changed. It's easy to apply and doesn't stain clothes too!

Mahima
This is my go-to anti-rash gel. Apply it once after shower and it stays like a smooth layer. Love Regina!

Anindita Sen
Skineasi has created an incredible product. The tight elastic of a bra can be really uncomfortable many times. It helps in reducing itching and irritation. Loved the product. Recommended to every woman.

Meenu Sanchihar
Solution to my chafing problems.

The best thing about anti rash gel is that it is highly effective and Last Long. I have found SkinEasi Regina to be very effective for bra rashes, inner-thigh rashes, and underarm rashes.

Maithili N